Rhinoplasty
Rhinoplasty or nose job, is a cosmetic surgery to refashion the nose. It may be done to also correct breathing problems, if any, along with it. It is a safe surgery which helps harmonise your nose with the rest of your face. The face as a whole is assessed and any other changes required to harmonise the face are suggested, such as, chin augmentation, facial fat grafting, jawline enhancement, chin liposuction, etc. Any of these procedures can be combined with a rhinoplasty.
A rhinoplasty can alter the width of the nasal bridge, reduce humps if any, fill up depressions of the dorsum or root of the nose, change the position of the nasal tip, resize of the nostrils, make the tip sharper and achieve symmetry of both sides.
Rhinoplasty is done if
 You seek a change in the appearance of your nose.
 You have a broad, blunt, large or unattractive nose.
 You have a round, bulbous nose which makes your face look chubby.
 You have a twisted (deviated) nose which might be the cause of your breathing

 

issues.
 You are suffering with breathing issues like snoring, deviated septum, or inferior turbinate hypertrophy causing improper functionality of your nose.
 You have had a nasal fracture due to a car accident or sports related trauma.
In a world obsessed with beauty, we are often left envying those who are naturally gifted with captivating features. We were always told that good looks are a gift of nature, and that we have no control over our looks. We can only hide behind a makeup at the most. 
Facial aesthetics are largely dependent on our noses, cause it is the centrepiece of focus on our faces. Hence, a rhinoplasty is so popular.
An unattractive nose will remain so, for your lifetime until you do something to fix it. The only solution is offered by this surgery, called Rhinoplasty or a nose job.
A rhinoplasty can alter your very look, your personality, can make you feel more confident about yourself and could be all that you ever wanted from a cosmetic surgery. It can also correct your breathing problems, by addressing the septum or the turbinates.
Who is a candidate for rhinoplasty?
Anyone who wants to change in the appearance of their nose or those have difficulty in breathing can opt for Rhinoplasty Surgery.
Septoplasty
People suffering with breathing problems like snoring, deviated septum, or inferior turbinate hypertrophy, can opt for a functional nose surgery involving septoplasty or repair of the nasal septum. 
Broken Nose
People who have sustained a nasal fracture due to a car accident or sports related trauma can opt for a cosmetic rhinoplasty which can be performed to straighten the nose and also to achieve a beautiful shape.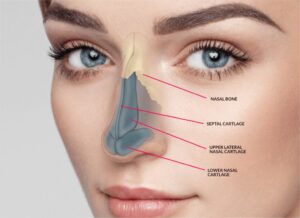 Procedure
Rhinoplasty is done under general anaesthesia. An open or a closed approach is used. 
In an open approach, a small nick is given on the columella and inside the nostrils to get access to the entire nasal framework. It helps in getting a better access and better visibility, and is required when the nose job demands a lot of work to fix it, or when it is a revision nose job.
A closed approach is used if there is less work that needs to be done. It involves incisions only within the nostrils.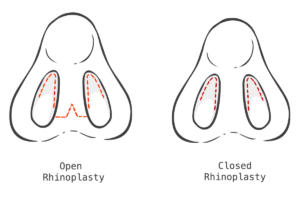 Once the access is achieved, various procedures can be carried out for correcting specific deformities such as dorsum correction, septum straightening, turbinate correction, nose narrowing, tip reshaping, droopy or boxy tip correction, making the nose appear longer or shorter, making it sharper, giving it more definition.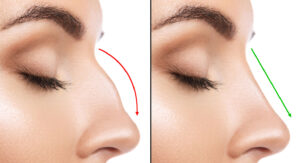 Liquid rhinoplasty
This is a relatively newer concept in which HA filler or fat can be used to change the shape and appearance of the nose. Mild to moderate corrections of the dorsum such as hump, depression, asymmetry, deviation, etc can be masked or balanced using fillers. 
Fillers will last for about a year or so, and so will the result. But it is a quick fix, with no downtime.
Recovery After Rhinoplasty
Outpatient day care procedure, which means you can go home the same evening in most cases.
 After the surgery, a splint or plaster will be placed on your nose.
 The nasal passages will be packed with specialised nasal packs for 24 to 48 hours.
 In about a week's time, the splint will be removed. Sometimes, a new splint or tapes are kept for another week for better moulding of the nose to thee desired form.
You may resume with your daily activities from next day onwards.
 The bruises & swelling (especially around the eyes and cheeks) will diminish in the next few days and the nose will get softer over a few months before getting back to normal.
 Avoid sun in the initial few days after surgery and use a sunscreen while going out.
Risk involved
Like every surgery, there are potential complications and risks of rhinoplasty. Common risks involved include, anaesthesia related risks, bleeding, a chance of infection, asymmetrical results and persistent pain.
However, if performed by a qualified competent plastic surgeon, the complications are avoidable.