Asian Blepharoplasty is an upper eyelid procedure which helps create a definite upper eyelid crease or fold. It is desired by Asian people who seek Caucasian-like eyelids.
This is an almost scar-free surgery, day care surgery with assured results.
Asian Blepharoplasty procedure is done when:
 You desire a Caucasian like upper eyelid fold/crease
 You want your eyes to be well defined
You seek reduction in the puffiness/fat filled look of your upper eyelids
You want to get rid of the mono-lid look of your upper eyelid
However, this procedure cannot change the slant of your eyes, for which another procedure called canthopexy will be required. 
Asian blepharoplasty is also known as double-eyelid surgery since it is designed to place the missing crease in upper eyelid, giving a normal double eyelid.
The surgery is most often performed under sedation with local anaesthesia, thus avoiding general anaesthesia. The patient can leave the clinic within a few hours of the operation.
Steps: It involves removal of some skin, muscle and fat, taking away the tissues that make your eyes swollen. The next step is to create the crease surgically. The muscle to dermis sutures are taken to create the dynamic fold/crease desired by the patient. This is where it differentiates itself from a regular blepharoplasty. 
The whole procedure roughly takes about an hour. Precise marking before the surgery takes about half hour too. It is a relatively pain less procedure except at the time of the initial anaesthetic injections to numb the lids, which are mostly done after you are sedated. The incision is sutured with very fine continuous stitches, that are removed after 5-6 days.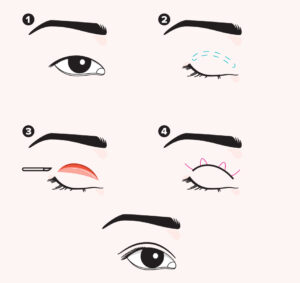 Post-Surgery Care
It is usual that the eyelid can become red, swollen and a little bruised. Antibiotic eyedrops and lubricating eyedrops take care of it. Applying cold compresses early after the surgery helps immensely.
Avoid reading, computers, screens or any activity which strains the eye.
You can take shower, wash your face and keep the area clean
Eye makeup needs to be avoided till after the stitches have been removed and only hypo-allergic eye makeup is advised.
Contact lenses should not be used until after a few days have passed.
Sunglasses are recommended to avoid direct sunlight on your eyelids during the first few weeks.
Please be patient for your eyelid muscle function to recover. Itching is common. The incision scar will fade and soften over some time.